About Aspen Avionics, Inc.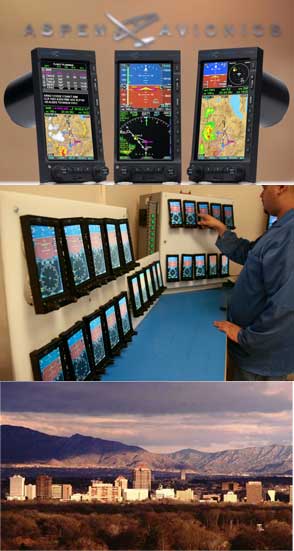 Aspen Avionics, based in Albuquerque, New Mexico, was founded by aviation enthusiasts in 2004. Aspen Avionics specializes in bringing the most advanced technology and capability into General Aviation cockpits—and budgets. Our products increase situational awareness and reduce pilot workload, making it even easier and safer to fly in both VFR and IFR conditions. The way we look at it, getting the latest avionics technology shouldn't always mean spending a lot of money—on equipment or installation. At Aspen Avionics, we design products to be affordable, easy to install, and easy to own.
Aspen's flagship product line is the Evolution Flight Display system, the most innovative—and affordable—glass cockpit system ever for certified general aviation (GA) aircraft. The Evolution system enables aircraft owners to upgrade their primary flight instrument "six pack" to glass cockpit technology all at once, or in stages. Easy and inexpensive software upgrades add new features and capabilities, while future-proofing the system and protecting owners' investments.
Aspen's first product, certified in November 2005, is the AT300 Hazard Awareness Display, a combined terrain awareness display and vertical speed indicator. It is designed to directly replace a mechanical vertical speed indicator, and is certified under TSO C8d (Vertical Speed Indicator) and TSO C113 (Multipurpose Electronic Display).
The company raised its first round of venture capital in December 2005, and closed a Series B round in June 2007, to facilitate its continued strong growth. The Company's investors include Granite Ventures, vSpring Capital, Wasatch Venture Fund, Fort Washington Capital Partners, and Sun Mountain Capital.
Led by industry veteran John Uczekaj, Aspen Avionics' team of top talent—with deep roots in aviation product development and certification—will continue to grow the company's business through pioneering solutions for the general aviation market.