Charter School Students and Advisors Visit Aspen Avionics
Students Tour Factory, Learn about Aviation Careers
Albuquerque, NM, November 18, 2009: Thirty three members of the Southwest Learning Centers' AERO AV8R Program, located in Albuquerque, visited Aspen Avionics last week to see Aspen's products, tour the manufacturing plant, and learn about career opportunities in aviation.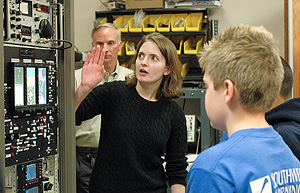 Students get a live product demonstration from
Aspen engineer Penny Heinz
"It's exciting to see these motivated young people interested in pursuing careers in aerospace," said Aspen Avionics President and CEO John Uczekaj. "It's our hope that their time spent here at Aspen will help encourage them to join our industry and contribute to future innovations in aviation."
The focus of the visit was to provide the upcoming aviation enthusiast with an overview of the many opportunities and varied occupations that are available within an avionics company. The visit included a welcome by Uczekaj, followed by short presentations from Aspen employees, ranging from manufacturing to marketing, describing their education, past experience, and an overview of their current position with Aspen Avionics.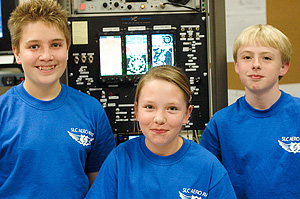 Students in Aspen's test lab
"The students need to know that there are dozens of fulfilling and lucrative aviation career paths other than that of pilot," added Uczekaj. "The avionics industry will always need engineers, technicians, sales, and marketing talent."
Students then toured Aspen's manufacturing facility and engineering lab where they saw product demonstrations. The event ended with a small reception with refreshments where students were able to ask questions of Aspen's staff.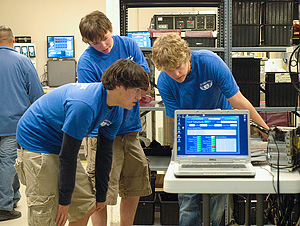 Students observe product assembly in Aspen's
manufacturing plant
About Southwest Learning Centers
Albuquerque-based Southwest Learning Centers is a group of three charter schools (Southwest Secondary, La Luz, and Southwest Primary) whose mission is to prepare students in grades 4-12 to become self-motivated, independent, competent, life-long learners. The school strives to equip its students with the reading, writing, mathematical, technological and problem solving skills necessary for success in post-secondary education and personal career choices. Southwest Learning Centers is one of a handful of schools across the nation that offers their students the opportunity to earn a Private Pilot Certificate in addition to a high school diploma through their AERO (Aeronautical Education and Research Opportunities) AV8R program.
About Aspen Avionics, Inc.
Aspen Avionics specializes in bringing the most advanced technology and capability from the commercial and business aviation markets into general aviation cockpits—and budgets. Our products increase situational awareness and reduce pilot workload, making it even easier and safer to fly in both VFR and IFR conditions. The way we look at it, getting the latest avionics technology shouldn't always mean spending a lot of money—on equipment or installation. At Aspen Avionics, we design products to be affordable, easy to install, and easy to own. The company can be found on the web at https://www.aspenavionics.com, and may be reached at (505) 856-5034. Print-ready images of the Evolution Flight Display are available at https://www.aspenavionics.com/pressdownloads.