Aspen Announces Availability of Evolution Integration Kit for Avidyne DFC90 Digital Autopilot
Cessna 182-series aircraft receive initial round of installation approvals
Albuquerque, NM, October 2, 2012: Aspen Avionics, manufacturer of the innovative Evolution Flight Display and Connected Panel, and Avidyne Corporation, a leading provider of integrated flight deck and safety systems, announced today that Avidyne has received FAA STC approval for installation of the Avidyne DFC90 Digital Autopilot into Cessna 182-series aircraft when interfaced with Aspen's Evolution 1000 Pro Primary Flight Display (PFD). The approval includes sixteen models of the Cessna 182 Skylane series, all of which are included on Aspen's Approved Model List. The Evolution Integration Kit for the DFC90 kit, similar to other Aspen upgrades, is an easy software upgrade to the Evolution Pro PFD. The kit is priced at $1,995 and can be purchased via any Aspen authorized dealer.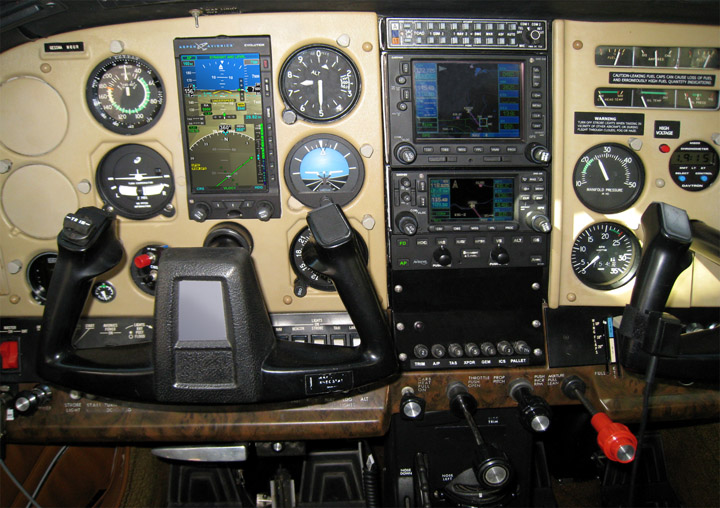 The Evolution Integration Kit for the DFC90 enables the PFD to provide precision attitude inputs to the autopilot from its reliable, solid state Air Data and Attitude Heading Reference Sensor (ADAHRS) as well as display mode annunciations and alerts right on the PFD. Additional capabilities include allowing pilots to perform Heading Select, Altitude Preselect, and Vertical Speed Select inputs to the DFC90 directly from the Evolution Pro PFD.
"The combined safety-enhancing features of the DFC90 and the Aspen glass panel, at this affordable price, make for an unbeatable retrofit solution," says Aspen Vice President of Marketing Brad Hayden. "This ground-breaking co-development effort with Avidyne is further proof of Aspen's commitment to be compatible with new as well as existing systems and to continually improve our product lines with easy to install software upgrades."
The DFC90 autopilot starts at $9,995 plus installation for single-engine piston aircraft, with STEC55X or STEC30 series autopilot servos already installed.
Aspen Evolution Pro PFDs are priced starting at $10,180 plus installation. The Evolution Integration Kit for the DFC90 is priced at $1,995, labor not included, and requires Evolution Software version 2.6 or later.
PDF version of the media release
Avidyne DFC90 Autopilot Integration data sheet (pdf)
About Avidyne Corporation (www.avidyne.com)
Avidyne's continuing leadership in innovation and its Flying Made Simple™ system design make flying safer, more accessible and more enjoyable for pilots and their passengers. The company offers a full line of panel-mounted avionics including their new IFD540 and IFD440 FMS/GPS/NAV/COM, AMX240 audio panel, AXP340 Mode S Transponder, and DFC90 digital flight control systems. Avidyne's product line also includes the industry-leading Entegra Release 9 integrated flight deck with DFC100 digital flight control system, datalink-capable EX600 multi-function displays, the dual-antenna TAS600 series of active traffic advisory systems with ADS-B, the MLB700 broadcast datalink receiver, the MLX770 world-wide datalink transceiver, and the TWX670 Tactical Weather Detection system. Headquartered in Lincoln, MA, the company has facilities in Columbus, OH, Melbourne, FL, and Boulder, CO.
About Aspen Avionics
Aspen Avionics specializes in bringing the most advanced technology and capability into general aviation cockpits—and budgets. Our products increase situational awareness and reduce pilot workload, making it easier and safer to fly in both VFR and IFR conditions. The way we look at it, getting the latest avionics technology shouldn't always mean spending a lot of money—on equipment or installation. At Aspen Avionics, we design products to be affordable, easy to install, and easy to own.